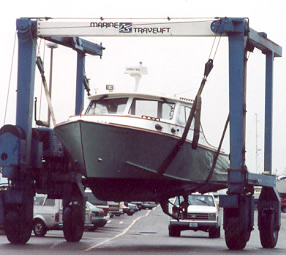 Here she comes in the Travelift. Notice how light she is. In spite of having 16° of deadrise at the transom, much greater than most boats of her type, there's very little boat under water. The skeg and large rudder give wonderful control under all conditions.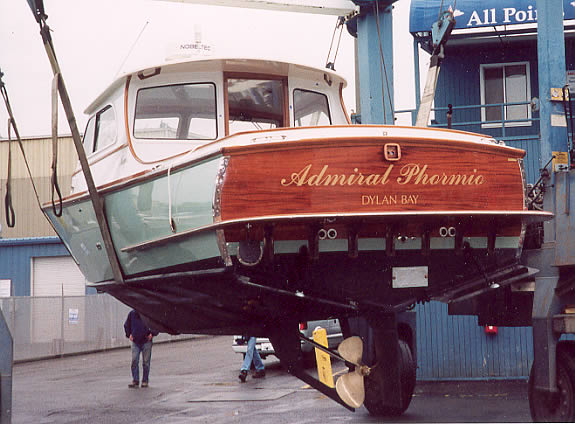 There's nothing like a cold-molded book-matched African mahogany transom. The 3/16" thick veneers are coated with epoxy and lots of polyurethane varnish. This seamless transom will look great with no maintenance for years. That's a big prop down there. Propeller efficiency is an outstanding 65%. The prop is protected by the skeg, yet there is an excellent flow of water to it. The varnished pilothouse door and stern light are fitted but not yet installed. See how the stainless guard goes all the way around the swimstep with no gaps to catch lines or dock protrusions.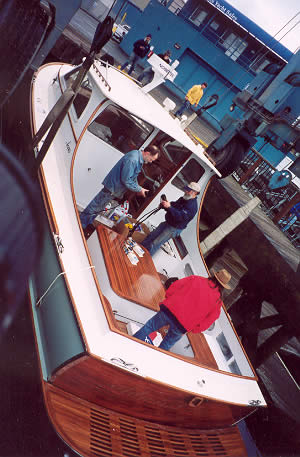 Time to get out the dock lines and fenders. All the cockpit teak is vacuum bagged with epoxy glue to the European marine plywood below it. No fasteners, no seams, no leaks, no maintenance other than washing.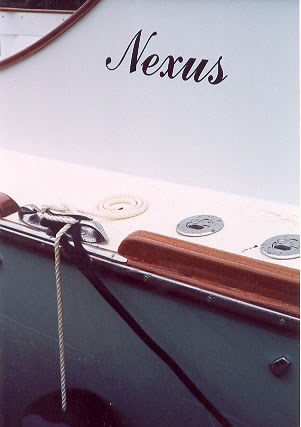 Here's a little detail: custom Karlyn cleat/chock combination with no visible fasteners, rub strakes, beautifully made fuel fills. All the teak is epoxy coated and varnished.
Don't know who Admiral Phormio was? Clue: perhaps you've forgotten your Thucydides.