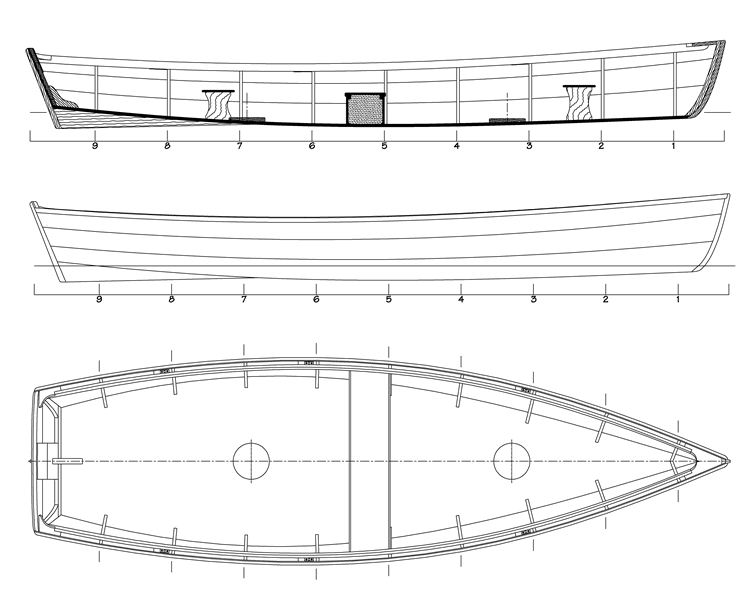 Length overall. . . . . . . . . . . .
Beam. . . . . . . . . . . . . . . . . . . .
Draft (engine up) . . . . . . . . . 
Power. . . . . . . . . . . . . . . . . . . 
Weight (w/o engine). . . . . . .
Speed. . . . . . . . . . . . . . . . . .. .


16';
4'8"
5"
Oar, electric, or 2HP gas
190 lbs.
0-5 kts.

A custom built wood boat especially for fly fishing
The client says:
"Dear David: The boats are spectacular. They do it all. We caught 10 trout averaging 3 lbs. and the boats handle perfectly and are very comfortable. I will send pictures in due course . . ."

We were commissioned by a Canadian client to build a pair of identical custom wood fly fishing boats, for use on a large private lake. The boats were to be sufficiently stable to allow a fisherman to comfortably stand and cast. They were to have totally clean interiors so that it would be impossible to snag fly line. Our client desired that the boats look very much like wooden boats, perhaps with a bit of river skiff in them, though they were also supposed to be relatively inexpensive and of simple, durable construction. The boats additionally had to be light enough to be carried or carried-and-dragged up and down a beach. Plans are now available for this boat.

We elected to satisfy his requirements with a flat bottom skiff of modified dory construction. We used glued lapstrake sides to emphasize the fact that these were wooden boats, and also to give them a little pizzazz. The bottom is frameless, being cross planked with a single piece of 3/4" mahogany plywood, the grain running athwartships. That made the bottoms very strong and stiff, and also very clean. The interiors feature a flotation-filled seat for rowing, and can have a pair of swivel pedestal seats for fishing. Power is by oars and/or a remote controlled electric trolling motor or one of the new Torqeedo electrics.

TECHNICAL DETAILS
The bottom is 3/4" thick. The topsides are of glued lapstake 1/4" plywood. The frames, stem, skeg, guard and inwale are African mahogany. The bottom can be coated with glass and epoxy, with a topcoat of graphite and epoxy to resist abrasion and make it easy to drag up the beach. This combination of wood and epoxy will resist the abrasion of beaching far better than any fiberglass boat could.
Our standard paint is the highest quality marine polyurethane available, in your choice of colors. The interior is coated with Cetol, an easy care matte marine finish to show off the beauty of the woods and fine joiner work.