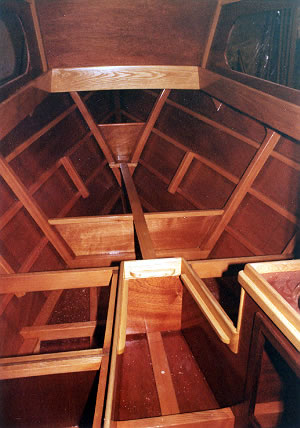 Here's the naked cabin interior, completely finished and ready for the bits and pieces. Note the stringer-frame construction, which makes our boats so light and strong. This client chose to have the cabin trimmed in ash. Forward is the V-berth area, with ledges to support a filler cushion to make it a double. The port compartment closest to the camera will be a seat with a Porta-Potti under. Opposite is the galley cabinet.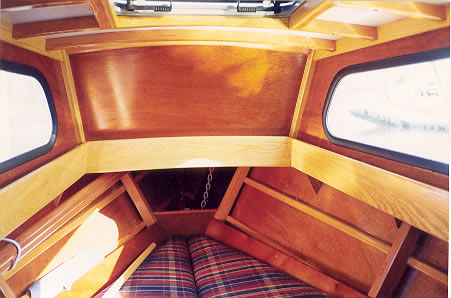 This is the same cabin that is pictured above, fully finished and ready for delivery. The white overhead with exposed beams is standard for our cabins. Forward, you can see the anchor chain. The dark shadow to the right of the chain is a "thump pad" of vinyl to keep the chain quiet. We have bungied the 10' oars up under the deck on the port side.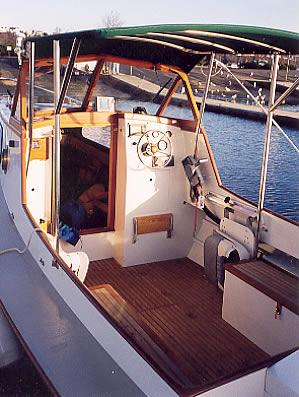 This is the cockpit of the same boat, after launch. The chairs are made to fold down against the cockpit sides, completely out of the way, to "clear the decks for action." There are a pair of teak-topped seats for more seating and storage. The cockpit sole is also teak. This boat has a canvas top with fixed framework. There are a pair of consoles on the cabin bulkhead for wiring, electronics, and extra storage.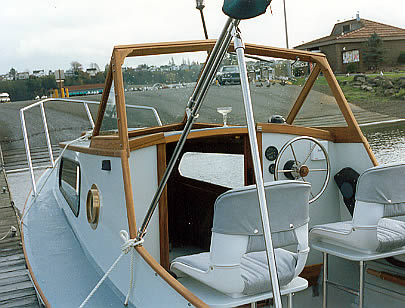 Different marina, different boat. This photo shows the chairs in their "up" position. They also slide fore and aft to accommodate sitting and standing helm and passenger positions. This boat does not have helm or passenger consoles. Instead, the wiring and so forth is hidden in a wood box inside the cabin. We can tell by the champagne glass that this is taken at the launch.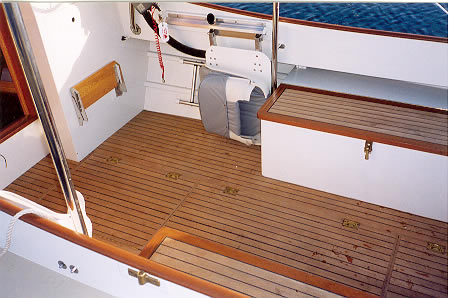 This is another look at the teak cockpit sole. There are flush hatches which run the full length of this self-bailing cockpit. Large drainage troughs below the hatches keep water out of the bilges.